Lebron James recently broke the NBA all-time scoring record at 38 years old with 38,388 points. He set the record on the 38th day of the year with 38 points scored in the game. And he was born 38 weeks after Kareem Abdul-Jabbar set the last record. The numbers are just wild.
We may not have many basketball fans here (we hope we do!), but we wanted to share his design for those curious.
Read on for an excerpt from his Blueprint Guide, insights on his design and his chart.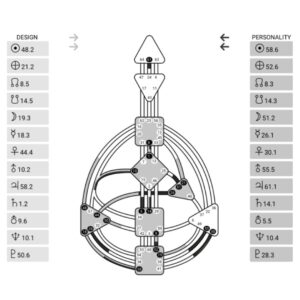 Lebron James is a 6/2 Generator
As a Generator, he is here to become masterful at whatever he does and bring a powerful commitment and dedication to his work. 
His decision-making authority is Trust your Gut (Sacral)
With this authority, he is meant to make decisions based on his gut feeling in the moment. He shares, "when you have that gut feeling, you have to go with it."
He carries the gift of Focus (9-52 channel)
He has the capacity for deep concentration and focus. He can even help bring focus to those around him—like his team—and drop them into a state of collective determined concentration.
He has the gift of Perfecting (18-58 channel)
He may feel an insatiable drive to improve anything and everything around him, whether it's his own game, his team or the world. He shares, "I like criticism. It makes you strong."
He has a 6/2 in his profile
With a 6 in his profile, he is here to serve as a role model and inspire authenticity in others through his own journey. He shares, "I have no problem being a role model, I love it. I have kids looking up to me and hopefully, I inspire these kids to do good things." He is only meant to become wiser and more influential with time.
With a 2 in his profile, he is innately talented and meant to lean into the things that feel most natural to him. He shares, "You know, I'm just 6'9'' and 260. And just so happen to be very good at playing the game of basketball."
He has a defined ego center
He carries a tremendous motivation and will to make things happen. When his heart is in it, he can do anything. He has a gift for pumping up and empowering those around him, making them believe anything is possible.
He is naturally competitive and may feel on fire to be the best and to be the first. He shares, "there's no reason to play in the NBA if you don't believe you can win it all."
He has a defined root center
He has the capacity to handle high stress (like a game!) without being taken off-center. He brings a calm, grounded energy to those around him, even amidst chaos and intensity.
Finally, he may feel a deep responsibility to take good care of his community and the people around him.
…And that's just the beginning 💫